Exhibitions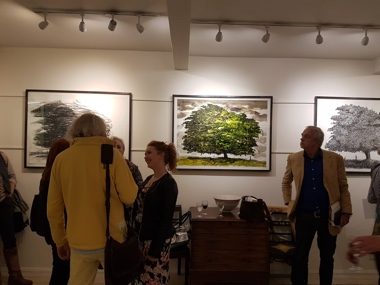 Education
1978 Chelsea Art School
1979-1982 Hornsey Art School – BA Fine Art
L'Ecole des Beaux Arts, Aix en Provence
City & Guilds Teaching Certificate
Solo Exhibitions
1981 King Street Gallery
1982 Cadogan Contemporary, London
1991 New Grafton Gallery, London
1992 New Grafton Gallery, London
1993 Reading Arts Festival
1994 Cadogan Contemporary, London
1995 New Grafton Gallery, London
1996 A T Kearney, London
1998 Art First, London
2008 Agnew's Gallery, London
2012 Peirs Feetham Gallery,London
2014 A&D Gallery, London
2017 Peirs Feetham Gallery, London
Group Exhibitions
1979 Maas Gallery, London
2000 Blickling Hall, Norfolk
2000 Plymouth Art Centre
2001 Corn Exchange, Kings Lynn – Norwich County Council Initiative
2002 Innocent fine art, Bristol
2003 'The View' ~ Waterstones, Piccadilly & Orleans House Gallery,
2003 Richmond upon Thames
2004-2007 Agnews Gallery, London
2016 Morewood Art, Somerset
2019 Cautious Madness, Dorset
Collections
Burmah Castrol PLC
Fountain Court Chambers
A T Kearney Ltd.
Arco British
Stratfield Saye – Commissioned by the present Duke of Wellington to paint the park lands.
English Heritage – A collection of paintings of Sea Henge, Norfolk used for lectures on archaeology.
Awards & Appointments
2020 Artist in residence for the Bush Heritage, Australia
1999 Winner Newbury Festival Spink Painting Competition
Sponsored by Arco British to produce series of works on North Sea Oil Rigs
Residency at The Arthur Boyd Trust in New South Wales, Australia
In 1995 Giles Auty, the Art Critic, used my work with that of four other artists for a lecture at the Tate Gallery – 'Figurative painting by contemporary artists'
Gave several talks at Art First to an invited audience of Oil industry businessmen and art critics on the Oil Rig Project and my work.
Design Experience
Began painting on bone china in 1987, and now have an extensive range of designs, some of which have been commissioned by Poole Pottery. Ran a business producing hand painted china, marketing direct to the public and to interior designers.
Teaching Experience
Charcoal making and drawing workshop at Millfield School, Somerset
'A' level Art Tutor at BCOT (Basingstoke College of Technology)
Painting courses for Adults in Stratfield Saye 1999 – 2000, Fairfields Art Centre 2001-present
China Painting Workshops for children.